Public Art - Taipei Treasure Hunt

Creative Concept
"Taipei treasure hunting team" is one way to imagine Animamix fictitious treasure hunt story works include 1 airship, 2. photo truck, 3 Captain. Set at the entrance plaza of happiness within, stood next to the treasure map treasure box; door led from the imagination of everyone together pursuit of wisdom, courage, hope, and dreams of finding treasure.
"Taipei Treasure Hunt Team" designed timed interaction: Every 30 minutes, Airship conducts team shifts, ready to take off. Through periodic interactive design, works with more appearance and function, the audience is also more sustained sense of participation constantly. Another seven crew members set up in a park at expanding points of contact with the audience; Crew No. 8 with battery electrical storage devices, with the emergence of mobility activities, bringing more topics and fun. "Taipei treasure hunting team" sign from positive and negative two English lowercase letter "t" composition, but also like "North" word in Taipei, the middle with crew member's goggles and smiles, presenting teamwork performance image and happier mood. "Taipei treasure hunting team" does not interfere with understanding the audience dispersed, the performance of a single complete specific creative concept, doubling the rich "Taipei City happiness, joy Treasure Box" theme park. In addition to bringing art and culture of the infection, but also to convey a healthy, positive, humorous attitude toward life.
Crew No. 1 is in charge of patrolling. He watches over the children's treasures from the high point of the Cloud Gate and promises everybody will find his or her own treasure and dream!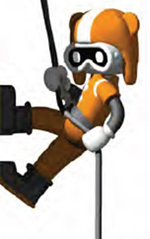 Crew No. 2 is carefully scaling the wall with a rope, as he sends out a reminder to all the children that the park is full of treasures, don't miss out!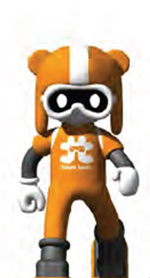 Hurry, hurry!! This is very urgent!!! Crew No. 3 sees from the terrace that the Airship on the plaza is about to take off! Where are the other crew members? Hurry, help to find them and tell them to return at once!
Crew No. 4 is always very busy! He is in charge of the park's maintenance, and is needed everywhere, including the Galaxy, the Fruity Ferris Wheel, and the Convoluted Universe! During his break, he has come out of the manhole to say hello!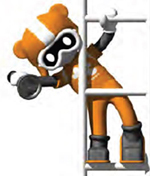 Crew No. 5 is in charge of signaling, as he transmits Morse code with a flashlight from the ladder. I will let you in on a secret; the message he is sending is: I love you!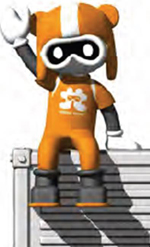 Crew No. 6 has brought this big tool box from the Sky Walk. It sure was exhausting@@! Let's sit and take a break! Hey look, he is waving to say come take a photo with me!
Paging Crew No. 7! A box of interplanetary treasures has arrived at the Galaxy Station, and the courier robot should immediately transport it to the Airship.
Crew No.8 is battery-powered and without fixed setting.