First-Aid Station
Provision of appropriate medical attention by the park Emergency Medical Technician (EMT-1) depending on visitors' physical condition.
Information Services
Speedy information provision for visitors by on-site computers.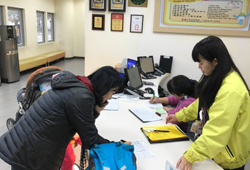 Strollers/Wheelchairs/Pet strollers Borrowing
Visitors with a valid ID and who fill out an application form may borrow a stroller or wheelchair. Those who do not have a valid ID may instead deposit NT$1,000 as a guarantee.
EasyCard sales, Top-up and Refund Services
There are several automatic top-up machines in the park, and EasyCard sales, top-up, and refund services are available at the Visitor Center, and the ticketing booths at the main entrance and the 2nd entrance on the 3rd floor.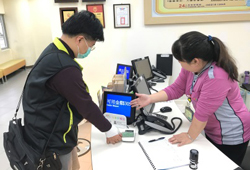 Lost and Found
Provides visitors with necessary lost and found services.
Lost and found
Breastfeeding Room
There are 4 nursing rooms by the Visitor Center. Visitors can request sealable, personalizable bags to store breast milk in the refrigerators on site.
Group Reservations, Admissions and Tours
Groups of 30 people or more can make group reservations for admissions and video tours on our website.
*Admissions for weekday group bookings are free if the bookings are made by 17:00 on the day before visiting. Group bookings for holiday admissions receive a 30% discount.
*Video tours are only available on weekdays.
Drinking Water
Drinking fountains with iced and warm water are available in the open areas of all floors. HOT water is available at the Visitor Center and the Breastfeeding room.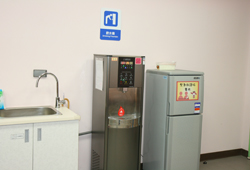 Lockers
No perishables, flammables and dangerous substances allowed in the lockers.
The locker fee ※ Usage under one hour is considered as one hour.
※ Payment method: Cash / EasyCard / O'Pay / Easy Wallet / Alipay / WeChat Pay / TAIWAN PAY / LINE PAY / Pi / GAMA PAY /
Maximum rental period is 1 day (24 hours). After 24 hours, the items will be removed by the locker company to another location and stored for a maximum period of 30 days, for which storage will be charged at the rate of the locker fees. Items not retrieved within 30 days will be disposed of. For more information call the locker company on +886-2-2725-3996.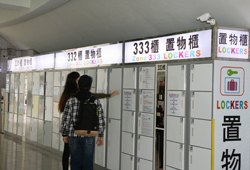 Cell Phone Charging
There are 3 Wi-Fi desks and 6 charging plugs at the Visitor Center. However, Visitors must bring their own charging equipment.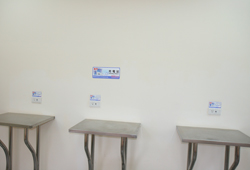 Express Admission
There are group and accessibility gates at the Park's main entrance and second entrance for persons holding disability ID, disadvantage cards, companion ID, senior citizen ID, as well as persons with disabilities, children accompanied by elderly persons, and expectant mothers with buggies, who, upon verification by Park staff, may enter the Park by express admission.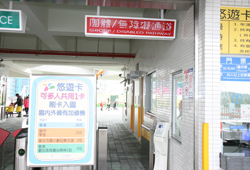 Active Guidance
Proactive advice will be given depending on the individual conditions of the disabled, elderly or visitors with buggies.
Waiting in Line Seats
To avoid excessive standing in the following persons, when disabled, elderly or persons otherwise in need are wait queuing in line for the facilities, our staff will provide dedicating seating at the facility entrance or near the control room, until the accompanying person awaits their turn, and they can use the facilities together.
Broadcasting
Tracing broadcasting services are provided in accordance with the needs of tourists.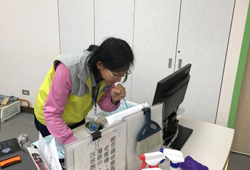 Muslim Prayer Room
We provide prayer mats and washlets for Muslim visitors.
Location: Behind the 1st floor Security Office by the main entrance
Please ask your staff if you would like to use the prayer room, and let them know once you have finished.
Adult Changing Table
For the convenience of visitors with wheelchairs and caregivers, some accessible bathrooms have been equipped with adult changing tables. These facilities are located on the 1st floor, opposite the Visitor Information Center, andat B1 in the Ring of Light.